Clinton's Presidential Nomination, a Feminist Struggle That Began Centuries Ago
Win or lose in November, her candidacy begins to break the "glass ceiling" that limits the advancement of the women in the U.S.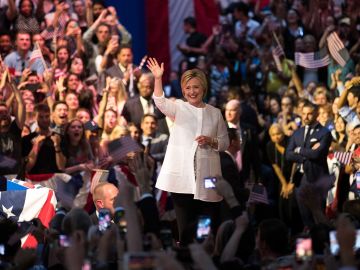 WASHINGTON. – Hillary Clinton's victory over the democratic presidential nomination is a feminist struggle for political power that began centuries ago and that, according to experts, begins to break the "glass ceiling" that limits the advancement of the women in the U.S.
Women gained the right to vote 96 years ago thanks to the 19th Amendment of the Constitution and, although there were others that since 1872 have made their way into politics, Clinton is the one who will go down in history as the first presidential candidate of a major political party in the country.
— Hillary Clinton (@HillaryClinton) June 10, 2016
//platform.twitter.com/widgets.js
Without falling into triumphalism, after winning four of the six states in the last round of multi-state primaries, including California and New Jersey, Clinton thanked last Tuesday those who struggled to produce this moment in U.S. history, which made headlines all over the world.
A headline 227 years in the making. https://t.co/7RDeQ3bQ3z pic.twitter.com/IuHMa3tUTr
— Hillary Clinton (@HillaryClinton) June 8, 2016
//platform.twitter.com/widgets.js
As optimistic as challenging, Clinton made it clear she is ready to contest the presidency to virtual presidential candidate Donald Trump.
Her speech was full of references to her own mother, Dorothy, and the history of women's struggle against the obstacles that halted their social and economic progress.
— Hillary Clinton (@HillaryClinton) June 8, 2016
//platform.twitter.com/widgets.js
In fact, social media lit up with phrases celebrating this milestone in the history of the feminist movement in the country with the hashtag #HistoryMade.
Let's keep making history, together.https://t.co/7IIvZVW3HY
— Hillary Clinton (@HillaryClinton) June 8, 2016
//platform.twitter.com/widgets.js
Historic Moment
If in 2008 many women cried when Clinton left the contest against the then-Democrat senator from Illinois, Barack Obama, last Tuesday they did as well when she finally got enough delegates to clinch the presidential nomination for her party.
Experts consulted by this newspaper agreed that her victory in the primary process is not a small matter, considering that the U.S. has lagged behind, even from poor countries, in these conflicts.
"Clinton's victory is a huge milestone in the struggle for women's equality in the U.S., no doubt. As a country we are lagging behind compared to others on all continents who have already elected women presidents; it took a lot to get here," said Debbie Walsh, director of the Center for American Women and Politics (CAWP) at Rutgers University.
"What we have had are incremental steps, for very complex reasons. Right now, the U.S. was ranked 91 in the world in terms of women in national legislatures, and women have not exceeded more than 25% at any level of government," she said.
— Gender Watch 2016 (@GenderWatch2016) June 8, 2016
//platform.twitter.com/widgets.js
Meanwhile, the Democratic strategist Maria Cardona, a member of the council of Latino advisors of the group Emily's List, said that Clinton's victory "changes the rules of the game, not only for America but for the world."
You helped make history. Now let's do it again in November.https://t.co/dVgUrdxhHm
— EMILY's List (@emilyslist) June 8, 2016
//platform.twitter.com/widgets.js
"The irony is that this country, founded on the principle of equality for all, is just reaching Latin American countries, Muslim countries, where historically women have been seen as inferior to men," said Cardona.
Throughout the country's history, women have been either behind the scenes or at a man's side in politics, "and it was time that they [women] are in the circles of power, in politics," noted Cardona.
Melissa Mark-Viverito, president of the New York City Council, said that beyond celebrating the historic moment, Clinton "has dedicated her entire life to improve the lives of Americans and it will give real results … she is the right woman for this labor".
The "Glass Ceiling"
Despite the achievements in a world dominated by white men, women still face obstacles to increase their share of political power and access to greater economic and social opportunities.
As for their participation in politics, the obstacles are related to their relatively short history in the electoral process; obstacles for fundraising; the shortage of mentors; a weak institutional support and the demands of family life, among others.
Thus, for example, out of the 435 seats in the House of Representatives, women only have 84, only 19% of the total, while Latinas total nine or just 2% of the total in that legislative body. There are only 20 women in the Senate and not one of them is Latina.
But Is She the Ideal Candidate?
Not everybody is celebrating with Clinton.
Sharon Day, co-chair of the Republican National Committee (RNC), described as "shameful" that the first female presidential candidate is also the first to be the subject of an FBI investigation for the scandal of using a personal server for e-mail.
"Hillary Clinton has been a disaster for women, her actions speak louder than words … we can and must have someone better," Day said.
The new Hispanic RNC spokeswoman, Helen Aguirre Ferre, relied on a survey by McLaughlin & Associates to emphasize that Clinton "does not have the millennials' support and most women have a bad opinion of her."
"Her inability to gain the voters' trust will augur problems in the general election," she predicted.
A Fight For Centuries
Clinton's rise is the result of a long chain of struggles of women who, despite losses or meager results at the polls, opened the way for greater political participation.
Unable to even vote yet, women like Victoria Woodhull, Belva Lockwood, Margaret Chase Smith, nominated themselves for the presidency between 1872 and 1964, respectively, an idea considered crazy at the time.
Democratic congresswoman Geraldine Ferraro made history in 1984 by being chosen as a candidate for the vice presidency; in 2008, Clinton was the first woman to appear as a presidential candidate in all primaries in the country.
Now, savoring last Tuesday's victory was Ellen R. Malcolm, founder of Emily's List. She celebrated it through her Twitter account the work behind Clinton's victory and "this chapter in history" and urged to continue fighting until "the final act" in November.
The book editor David Marks, described as a "feminist", celebrated that the Democratic Party was the first to nominate and elect the first African American president in U.S. history and, after next month's convention in Philadelphia (Pennsylvania), it will also be the first one to nominate the first woman to the highest political office in the country.
— Kate Black (@KateBlackDC) June 8, 2016
//platform.twitter.com/widgets.js
"We have come a long way, leading the path of progress and change, and I had never been so proud to be an American.  The genius of these powerful historical messages is that they leave abundantly clear that men can also be feminists," he said.
"Dreaming Big"
For Walsh, Clinton's nomination is not a mere symbolism or just a personal achievement but should encourage other women to embark on careers in public service.
Trump has touched an emotional vein between voters who, goaded by nostalgia, want to return "to an era that dominated a world of white men, white people, and where women were not part of the equation," he noted.
"Clinton's victory is an important step in a process of evolution. We'll see how brutal will the race be and if that encourages or discourages other women … but, winning or losing, by only achieving candidacy it sends a powerful message to our girls and young women that they can dream, dream big," said Walsh.